Featuring classic silhouettes and breathable mesh fabric, these running shoes are perfect for running,
workout, and casual occasions. Add your own design to these shoes through the design tool on Artsadd
and reflect your personality.

• 24.69 Oz. Especially suitable for running.
• Breathable mesh quarter and breathable foam tongue.
• Breathable stitch-bonded non-woven fabric lining and insole.
• MD+RB outsole for non-slip traction.
• Hand wash only. The print on shoes is unable to fade.

Available Size: US5,US6,US7,US8,US9,US10,US11,US12
Note: we recommend you choose shoes a size bigger according to the chart below if you have wide or flat feet.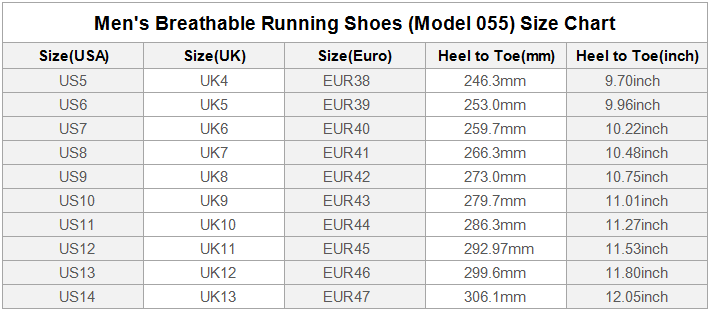 Very good
I like it, comfortable like premium, thank you.
 ♠ Shipping price is calculated at the Checkout.
  ♠ Shipping Process 2-7 Days      ♠ Delivery Time 7-28 Days
---
 Natna Shop Ship to the Following Countries:-
  Australia,  Austria, Belgium, Denmark, Finland,  France, Germany, Ireland, Italy, Luxembourg, Malta, Netherlands, Sweden, Switzerland, Canada, United Kingdom, and the USA.
---
  How do you know where your order is?      
       ♠ After you place an order you will receive a tracking number
              that lets you track where your item is. To track your order Click here.
        ♠ Processing Time 2-3 Days.
             ⊕ Tracking information is available after 5 Days.
             ⊕ Your order should arrive within  7-28 Days,
                 if not arrive within the Estimated Delivery time
                 you can apply for a refund by messaging us.
             ⊕ Most of the products are Shipped with e-Packet, this gives our
                  Customers end to end tracking at no additional cost and allow our
                  customers to monitor and locate their package on our website.
                  If your Packet is undelivered customers will get a Full refund.
---
 N:B: Some products do not have tracking numbers and natna shop will monitor where your item is and will inform the progress to customers through email.